Space Electric -The Great Attractor – Psych – Waves Productions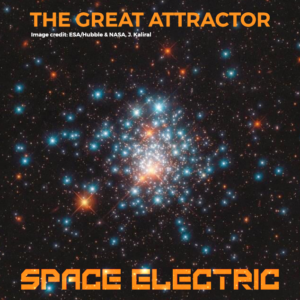 " Space Electric are from Oslo, Norway and rose from the ashes of Mad Above – one of the guys tragically died but that didn't stop some of the members writing a eulogy for the fallen member, however the Mac containing all copies of the song and music was stolen in a burglary of the band's studio. That didn't stop them either, having knocked out this superb album despite of their loss.
Opening with the title track, these boys don't hang around – it's straight into the meat and the potatoes. The sound is a big and fat, and singer Bjørnar Mikkelsen has a voice perfectly suited to the huge sounds. 'Lose It Completely' is punkier but could do with a bit more attack, then 'It Ain't Over' brings things down a bit on a superb anti-ballad. Bluesy lines that echo around add the atmosphere, and then the power chords come in on the chorus. 'I Slave' takes its sweet time getting to the point but when it does it's a fine piece of 70s inspired groove rock – all dark and brooding, then 'Head Down' is in the same directions with some wonderful keys and a grinding riff. 'Days Are Ending' is another simple groover, and then 'You Got To Bee Free' harks back the 70s again with a bit of  restrained rock that powers up the chorus. 'The Awful Truth' is more of the same, only a bit more understated and moodier, and then the final track 'Trance' is swamped in classic Moog synth and goes all jazzy for a bit before it settles down with the bass leading the line.
I enjoyed this immensely, although I don't really where it fits. I love the warmth of the sounds they create which really does hark back to the fertile era of the 70s. So, if you are into flares, cheesecloth shirts and Old Spice then look no futher."
Powerpoints: 8/10, Smudge, Powerplay Magazine nr. 236, UK December 2020.